ADC® has introduced the new ADView® 2 Modular Diagnostic Station





ADC®, a world leader in core diagnostic products for more than 30 years, has partnered with SunTech Medical®, the premier developer of innovative blood pressure technology, to create the next generation in modular diagnostics: The ADC ADView 2 Modular Diagnostic Station.
All the features of the ADView, are now even better.
Clinical-grade Advantage™ BP technology from SunTech Medical...



Contemporary, compact design with an integrated handle
and easy-to-read display...



Manual blood pressure mode for real-time verification....



Customizable average mode options...



Next-generation EMR ready with HL7 messaging for electronic data transfer



Network enabled with built-in Ethernet or optional Wi-Fi ...



Lithium-ion power for longer-lasting battery life and a lighter weight...



Built-in memory with up to 99 charting sessions...



New Pediatric Mode to ensure accurate measurements for younger patients


Firmware upgradeable...




Click HERE to find out more ...
---

WILLCARE ASSOCIATES is pleased and excited to announce they are now
representing Advancis Medical®, one of the world leading names
in wound care. Advancis Medical® and the DUKAL® Corporation are proud to announce the launch of their strategic commercial partnership in the US advanced wound care market.


Advancis Medical ® products have been designed with the needs of the patient and practitioner at heart - to improve the ease of application, while reducing the pain, discomfort and frequency of dressing change. Just a few product features include:

High capacity exudate management..

Atraumatic dressing technology..


Breathable fluid repellent backings..
Moist wound healing environment..

Advancis® family of dressings include :

Activon - Manuka Honey, Advazorb - Hydrophilic Foam Dressings,

Silflex - Silicone Contact Layer, Eclypse - Super Absorber Dressings, just to

name a few....

These are truly incredible products... Click HERE to find out more ....
---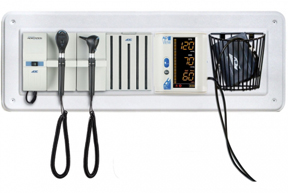 We are VERY excited about representing ADC's new line of
Adstation™ 5610 3.5v Modular Diagnostix Wall Systems with Adview
Click HERE to find out more ....
---
2011 was REALLY WILLCARE ASSOCIATES YEAR !!
We are proud to announce that Repertoire® magazine, the only publication that serves the healthcare distribution channel, has published an article titled

"Willa Moats and the New York Minute"
Edition: September 2011 - Vol 19 Number 09
Article#: 3793
Author: Repertoire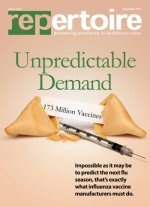 Click the image above to read this terrific article...
---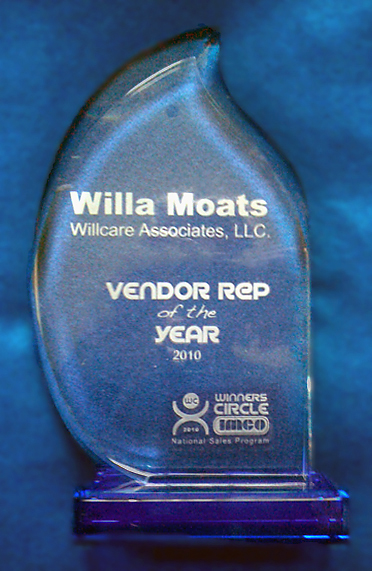 Willcare Associates, Willa Moats wins VENDOR REP of the YEAR for 2010 at the IMCO National Sales Meeting in Orlando Fla.
---